Signing up - 100 points
Uploading a profile photo - 50 points
Inviting friends - 20 points per person who signs up
Also earn kudo points by uploading "Green Action Reports." These include pictures and tips for sustainable habits you currently maintain.
back to top
Earn 1 point for every 1 pound of CO

2

by which you beat the benchmark for similar households.
To be as fair as possible, researchers from the CoolClimate Division of the University of California's Renewbale and Appropriate Energy have developed a sophisticated methodology for awarding Green Points and Bonus Points based on comparisons to similar households and your performance against your own history over time.
Similar households are defined as households that compare to your household with respect to:
the number of household members
the ages of household members
household loction (city)
Example:
For the sample household below, energy use for the month of May was 25% below that of similar households. This difference earns the household 150 points for saving 150 pounds of CO2 compared to similar households.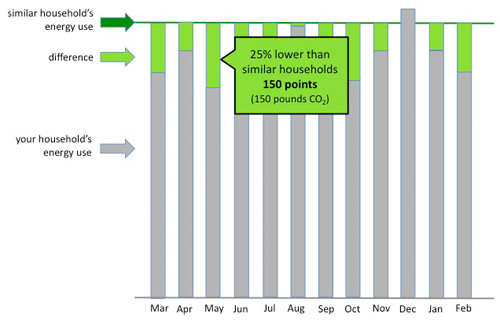 Note: The value of similar households' energy use (the energy benchmark) varies on a monthly basis, adjusting for weather in each location; the diagram above is simplified for illustrative purposes.
back to top
Earn 5 points for every 1 pound of CO

2

by which you beat your own personal benchmark each month.
Earn Bonus Points for reducing energy and transportation carbon footprints over time by beating your "personal benchmark." Your personal benchmark is your average performance level in previous months, as calculated by our software.
To make sure you earn all possible Bonus Points, start reporting as far back as January, 2014 and enter all consecutive reports starting from that date.
Exmaple: Continuing from the example household used in the "Green Points" section, energy use for the month of May was 10% below that of the household's personal benchmark. For saving 60 pounds of CO2 below their personal benchmark, the household earns an additional 180 points! [note: new in 2014, Bonus Points are now worth 5 times the value of Green Points so the total Bonus Points in the example below would be 300!]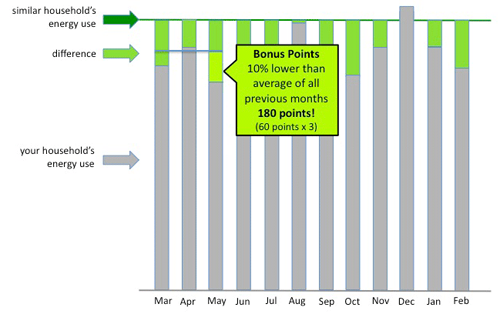 back to top
Researchers at the University of California, Berkeley, in collaboration with the California Air Resources Board and your Challenge city administrators, invite you to participate in an important research survey.
Your opinions are needed to enhance this program and to help researchers better understand what motivates individuals to conserve energy and participate in programs like the CoolCalifornia Challenge.
The survey should take about 10 or 15 minutes to complete. You do not need to gather any additional information in order to complete the survey.
As a BIG thank you, we are rewarding everyone who fills out the survey with a whopping 500 points!
If you have not yet done so, log in or register to take the survey and be a part of the greater learning mission of the CoolCalifornia Challenge. Each participant may take the survey only once.
back to top